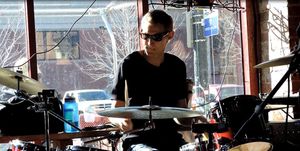 Owen Eichensehr - Drums, Vocals
Owen Eichensehr
Drums, Vocals
From early on, Owen Eichensehr was drawn to the look of a drum set as it sat on a stage – he notes it was its appearance that first drew him to playing the drums.
Though neither of Eichensehr's parents are musicians, they are both avid music fans and he remembers music being on regularly in the house from the time he was a little kid. Particularly, and in retrospect, according to him, the most influential was Stevie Ray and Jimmie Vaughan's "Family Style" album. It was around that time that Eichensehr's love for blues and soul music was sown.
When Eichensehr was in 6thgrade, his birthday present was a ticket to a blues festival in which BB King, Buddy Guy, John Hiatt, and Tommy Castro shared the bill. After seeing that show, he was pushed over the edge; going from a kid that was drawn to that music to a kid who began a full immersion in it.
In August of 2005, an uncle caught wind that Eichensehr was interested in taking up guitar and took him to the House of Guitars in Rochester, New York, to pick out a guitar for his 16th birthday. After coming home with his Epiphone Emperor "Joe Pass" Model guitar, Eichensehr got to work learning the solos and chords that he had grown to love so much. Though Eichensehr notes he is mostly self-taught, he did take one 4-month stint of lessons as senior in high school with Ken Erway, a folk and acoustic rock veteran from his hometown area of Bath, NY.
In 2008, Eichensehr headed to college in Buffalo, NY and began working his way into the robust music scene that exists in the city. While honing his skills as freelance vocalist and guitarist, Eichensehr became the full-time drummer for Willie May, a local heavy-hitter on the Buffalo blues scene. In 2011, Eichensehr took on a second full time project as the drummer for the blues-rock trio, 3 of a Kind.